---
Welcome
Come and enjoy our small town hospitality. Our Queens of Clean - clean every room to the highest standards.
Horizon Inn & Suites is located on the northern edge of town on Highway 275.

Our hotel's location is near a variety of area businesses including: St. Francis Memorial Hospital, D&S Tire, West Point Dairy, Valmont, Smeal Fire Apparatus, Danko, Blue-Jet, Thurston Manufacturing, and Blue Ox just to name a few.
When you stay at Horizon Inn & Suites, you are staying with friends. Our place is yours, whether you're here for business, vacation, or just passing through.
*
Be Welcome
Be Warm
Be At Horizon
*
Listed below are comments from a few of our most recent guests:
--- Oct. 27, 2013 -
"We have nothing to add. You are doing a fine job. Having a bottle of water in the refrigerator is a nice surprise. Thank you."
--- Oct. 15, 2013 -
"Very accommodating. Very, very comfortable. Thank you!"
--- Sept 28, 2013 -
"Awesome Shower! Always a lot of hot water!!
Loved the fact that you could open the window and get fresh country air!
Everything was terrific. Staff very helpful on the phone and in person.
Staff offered paper towels and water, so I could clean our car windows.
We forgot our cell phone charger. The staff came to the rescue again.
Very Very Clean!"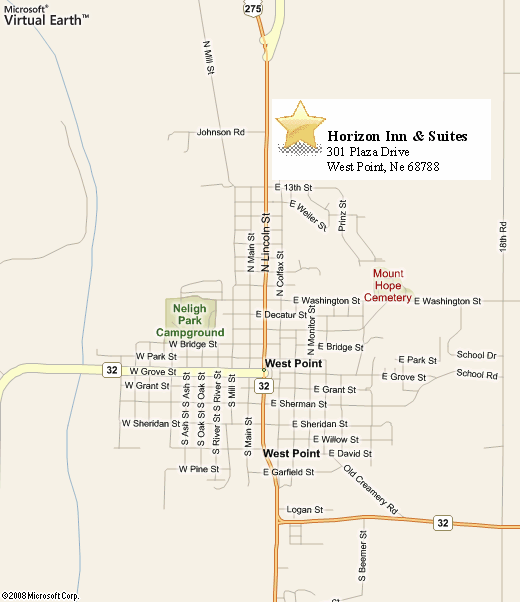 We are located near shopping, food and fuel.
Parking is always free and the coffee is always hot.
Come see for yourself why everyone recommends us to their family and friends.
We'd love to meet you!